Other types of activities
Profit from other types of activities totalled RUB 23.8 bln in 2015, an increase of RUB 4.7 bln, or 24.4%, from 2014.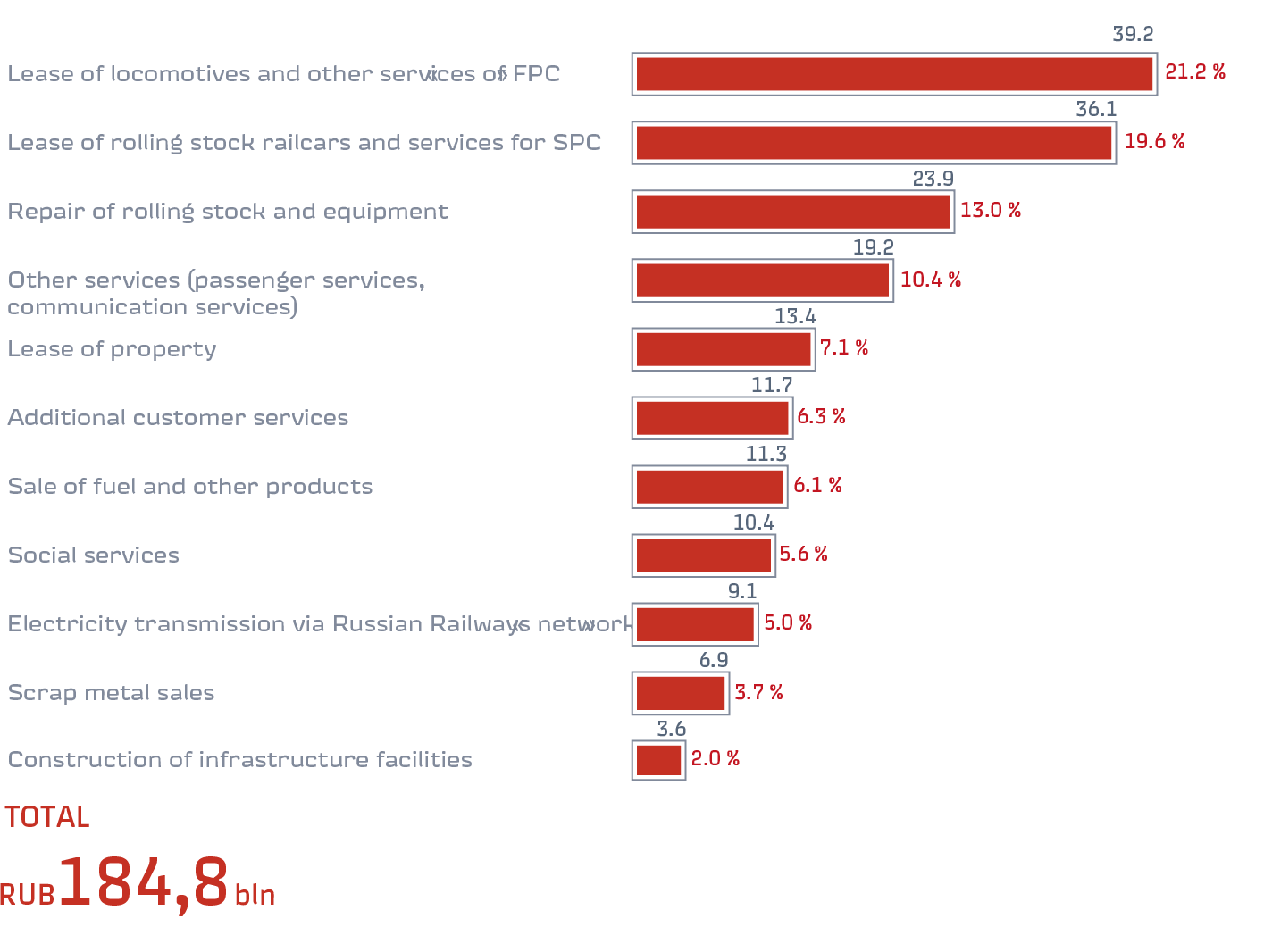 In 2015, the Company's income from other types of activities totalled RUB 184.8 bln, an increase of RUB 8 bln, or 5%, from the previous year.
Given the limited growth in income due to the reduction in the volume of work performed and the ongoing policy to contain growth in the cost of rolling stock leasing services for suburban passenger companies and Federal Passenger Company, the measures taken by the Company to reduce the cost of the services proved to be key factors behind the positive dynamics seen in profit from other activities. Despite a significant decline in the volume of suburban transportation operations, the Company managed to ensure a minimal positive financial result from the provision of services by suburban passenger companies. In addition, increased efficiency of rolling stock management, a reduction in maintenance and routine repairs costs and growth in labour productivity contributed to improvements in the financial result versus the previous year by RUB 1.4 bln.
The Company continued work to contain growth in long-haul passenger transportation expenses through a balanced tariff policy for the lease and management of passenger locomotives based on measures that aim to improve the efficient management of the passenger locomotive fleet given its changing age structure and support the transportation process with new traction passenger rolling stock. As a result of this work, the financial result from locomotive leasing and management services was improved by RUB 1 bln compared to the previous year.
Russian Railways successfully implemented projects to lease passenger facilities with Central Suburban Passenger Company and outsourced road transportation services, which contributed to growth in profit taking into account the additional commercial utilisation of leasable space.
Further work was carried out to reincorporate inefficiently used utility facilities into civil circulation (heating facilities put under municipal ownership in the Republic of Buryatia, Udmurtia and other regions), which helped the Company improve its financial result as regards the provision of utility services by 21% versus the previous year (RUB +0.2 bln).